The US now has what some call a PERMANENTLY REVOLVING GOVERNMENT of entire FAMILES who are either Jewish or connected to or married to Jews  The KAGAN family being one example The Rhodes are another example
 BENJAMIN RHODES
Benjamin J. Rhodes (born 1977) is the current deputy national security adviser for strategic communication for U.S. President Barack Obama. His formal title is "Assistant to the President and Deputy National Security Advisor for Strategic Communications and Speechwriting."Rhodes has been a foreign policy speechwriter for Obama since 2007. He is a graduate of New York's Collegiate School, Rice University, and New York University.
Benji and David are the  sons of a conservative-leaning Episcopalian father from Texas and a more liberal JEWISH MOTHER  from New York,which makes the Jews entitled to citizenship of Israel (under its law of Return) According  to the New York Times it turns out Benji and Davids (Jewish) mother  was well connected /networked
Her "closest friend" just happened to run the Carnegie Endowment for International Peace, which then published Foreign Policy.The writer of the puff piece in the New York Times David Samuel is also Jewish
Strangely other then saying shes Jewish no newspaper gives Ben Rhodes mothers maiden surname not even her name  or family background  or original nationality
C& P from NYT article just in case it gets edited
Benji  Rhodes sent her a letter And voila by the grace and power of Jewish networking Benjamin Rhodes a struggling and by most accounts a failed writer gets a job at "Foreign Policy"
Benji's mothers "closest friend who ran the Carnegie Institute"  is probably Jessica Mathews whose maiden name is Jessica Truchman  (Jewish of course)  Truchman's maternal grandfather banker Maurice Wertheim was the president of the American Jewish Congress .Her maternal  grandmother (mothers mother) was the daughter of Henry Morgenthau, Sr.
Jessica Truchman Matthews of head the Carnegie Endowment for International Peace,was very well connected Thats how she probably landed up the job at Carnegie

Now compare the truth (unwittingly brought out by New York Times )with the drivel Jewpedia puts out
In 2002, James Gibney, editor of Foreign Policy, introduced Rhodes to Lee Hamilton, former member of the House of Representatives and director of the Woodrow Wilson International Center for Scholars, who was looking for a speechwriter. Rhodes then spent the next five  five years as a Hamilton assistant, helping draft the Iraq Study Group Report and the recommendations of the 9/11 Commission.
Rhodes joined as a White House speechwriter in 2008.At the White House, Ben  Rhodes first came to prominence after he wrote Mr. Obama's landmark address to the Muslim world in Cairo in June 2009.
No mention of Jessica Truchman Matthews and her control over James Gibney

TWO NETWORKED JEWESSES MANAGED TO GET THE SON OF ONE IN A JOB WHERE  HE GOT TO HELP DRAFT THE 9/11 REPORT. THATS HOW JEWISH NETWORKING WORKS
Drawing on personal ties and a philosophical kinship with Mr. Obama that go back to the 2008 campaign, Mr. Rhodes helped prod his boss to take a more activist policy toward Egypt and Libya when those countries erupted in 2011.
Now that influence is being put to the test again on the issue of Syria, where the president has so far resisted more than modest American involvement. After two years of civil war  Mr. Rhodes, his friends and colleagues said, is deeply frustrated by a policy that is not working, and has become a strong advocate for more aggressive efforts to support the Syrian opposition Source Worldly at 35, and Shaping Obama's Voice
Ben Rhodes has been a instrumental figure in the Benghazi Coverup  On September 11, 2012, the American diplomatic compound in Benghazi, Libya, was attacked killing U.S. Ambassador J. Christopher Stevens and U.S. Foreign Service Information Management Officer Sean Smith.Stevens was the first U.S. Ambassador killed on duty since 1979 The incident was a PR disaster and Ben Rhodes was Obama's  main Fixer behind the Benghazi Cover-Up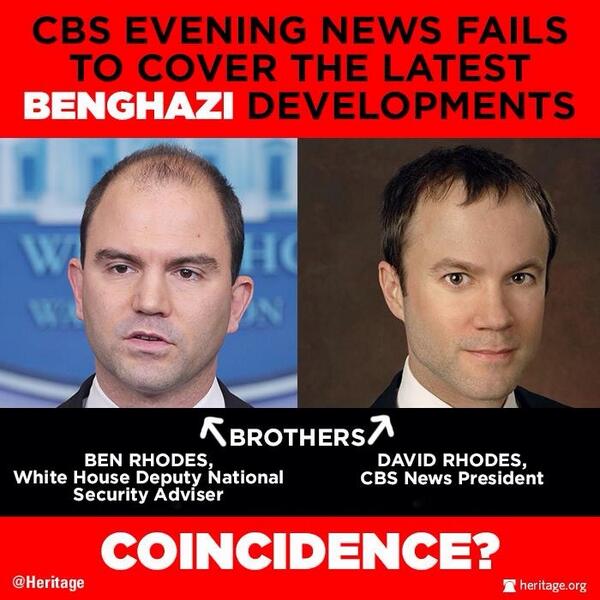 Rhodes is married to Ann Norris, chief foreign policy adviser to Senator Barbara Boxer. His brother, David, is president of CBS News.
 WIFE ANN NORRIS
Till January 2014 Ann Norris was the Senior Foreign Policy and Defense Advisor to Senator Barbara Boxer (Jewish) Totally unrelated but an interesting titbit is that Hillary Clinton's youngest brother, Anthony Rodham married Barbara Boxer's daughter, Nicole in 1994. Anthony and Nicole had a son and the marriage ended in 2000. (That was brief.)Ann Norris left in Jan 2014 and now works for the Secretary of State John (Cohen) Kerry (Crypto Jew)  She is now the Senior Advisor to Secretary's Office of Global Women's Issues which means she is just gaining "experience " for her biodata before she gets another plum posting in this or the next Presidency WHICHEVER PARTY WINS 
BROTHER DAVID RHODES
David Rhodes  was named president of CBS News, effective Feb. 22 2011. CBS News which is owned by CBS which is in turn owned by Jew Sumner Redstone through National Amusements, its parent company  He runs the daily operations of CBS News, whose television network is the home of "60 Minutes," "The CBS Evening News with Katie Couric," "The Early Show" and "Face the Nation," and whose radio network produces "World News Roundup." – Rhodes holds a Bachelor of Arts in economics and political science from Rice University in Houston, Texas. He is a native of New York City and lives in Manhattan with his wife, Emma (nee Kahn/Cohen) , and sons Ethan and Oliver.
Emma Kahn Rhodes was a senior financial analyst for CBS when she married Rhodes in 2005 She is a daughter of Alice and Edward Kahn of Berkeley, Calif. Her father in 2005 was a principal in the San Francisco office of Analysis Group Her mother was a nurse practitioner in the Kaiser Permanente Source
THREE MEMBERS OF THE (JEWISH) RHODES FAMILY ARE IN STRATEGIC POSITIONS IN GOVERNMENT AND THE MEDIA ALL THREE GOT THERE BY THE POWER OF  NETWORKING